Art
---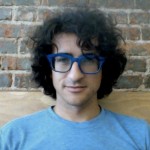 Published on August 22nd of 2015 by Andrew Berardini in
Art
.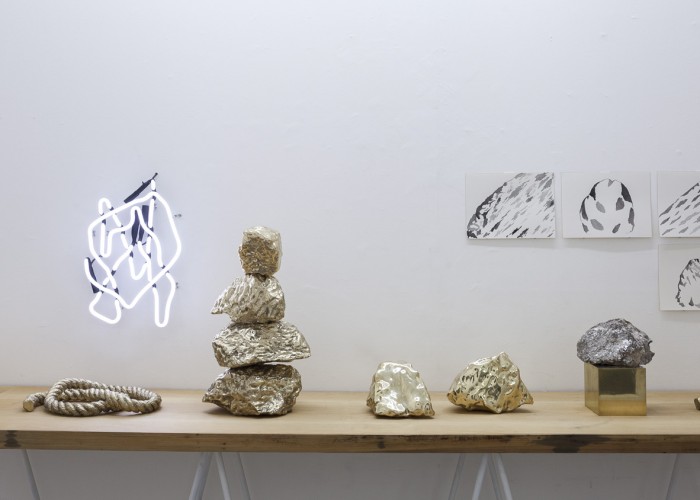 Andrew Berardini
Even if the meaning of ancient totems disappeared, their meaningfulness has not. A human hand altering nature with purpose, these ancient stacks of stones mark a path or honor a god, measure the stars or memorialize war. We can't really know for sure. Stand in the shadow of a megalith and you feel its force, an ancient energy still at work, blunted by our ignorance but no less powerful in its shifted mass. We know it means something important, even if we'll never know precisely what. In stone cairns scattered across a planet, we find evidence of our ancestors, a simple shape we still make in the few wildernesses we have left. It is a basis of communication and expression with material, the beginning of sculpture.
Here these sculptures stacked by Luna Paiva angle with their own obscure … Read More »
---
Published on November 30th of 2014 by Natalia Brizuela and Andrea Rosenberg in
Art
.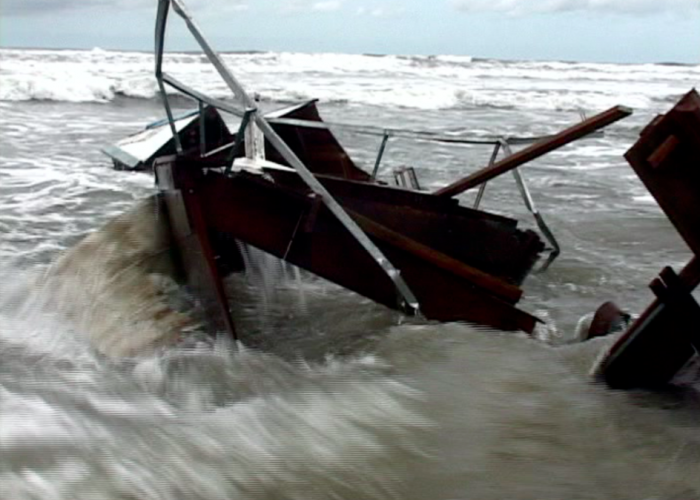 Natalia Brizuela on Nuno Ramos
translated by Andrea Rosenberg
"No sé." "I don't know." That's the response Tintin and Captain Haddock get from the inhabitants of the Andean country—vaguely reminiscent of Peru—where they've traveled in search of their friend, Professor Calculus, who has been kidnapped and taken there by the last descendants of the Incas. Whenever Tintin and Haddock encounter someone—all of them with indigenous features—and ask if they've seen their friend, the natives respond, "I don't know." That "I don't know" is the resistance of the colonial subject. That negation is the power of the powerless: "You can arrest me, you can interrogate me, you can torture me, you can exterminate my people, but you can't make me talk." Today the phrase arrives on the shores of the Río de la Plata in the form of an embodied echo: … Read More »
---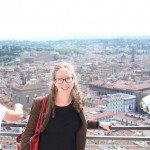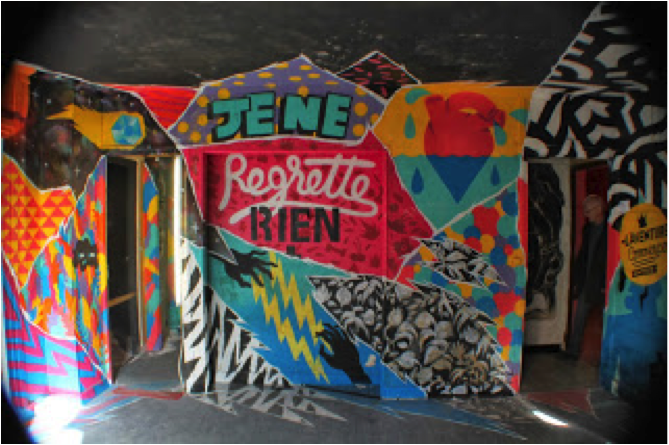 Caitlin Bruce 
Tour Treize is a former HLM (Habitation à Loyer Modéré or rent controlled housing) building that has been turned into a 360-degree art space, covered floor to ceiling with graffiti and street art installations. Over a hundred artists from more than sixteen countries were invited to create site-specific works that transformed the housing development from living space to art space. A six month secret collaboration between Gallery Itinerrance director, Mehdi Ben Cheikh, the Mairie of the 13th, and the owner of the building ICF Habitat la Sabilière, the project explores, among other things, the relationship between ephemerality and urban space.
The nine-story building, one of many modernist style structures that went up during the second major phase of urban renewal in France in the 1960s and 1970s (following the 19th century urban renewal practices initiated by Baron … Read More »
---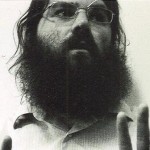 Published on November 19th of 2013 by Ben Merriman in
Art
,
Tongue Ties
.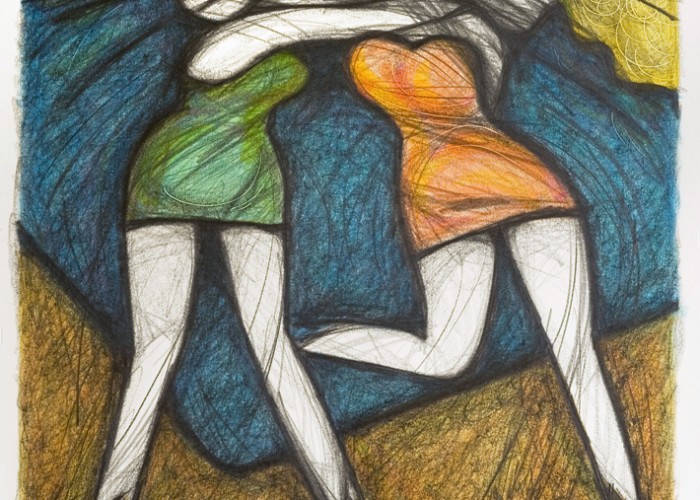 Ben Merriman
Costa Rica's Museum of Contemporary Art and Design (MADC) is located in a disused liquor distillery in the capital city of San José. The building still looks like a factory—unlike, say, the case of the Tate Modern, little has been done to convert the building from its original purpose. The museum is not air conditioned, and like the rest of San José it is warm and humid in all seasons. Wasps buzz in the rafters and tar sweats from the beams. On my visit, I walked in past an unstaffed front desk and looked at art unmonitored by guards or proximity sensors. MADC is a national museum that is neither isolated nor protected from the everyday life of its country. It is this contiguity, along with a vigorous engagement with the styles of the historical avant-gardes, that … Read More »
---
Published on August 20th of 2013 by Paola Cortés Rocca and Jennifer Croft in
Art
.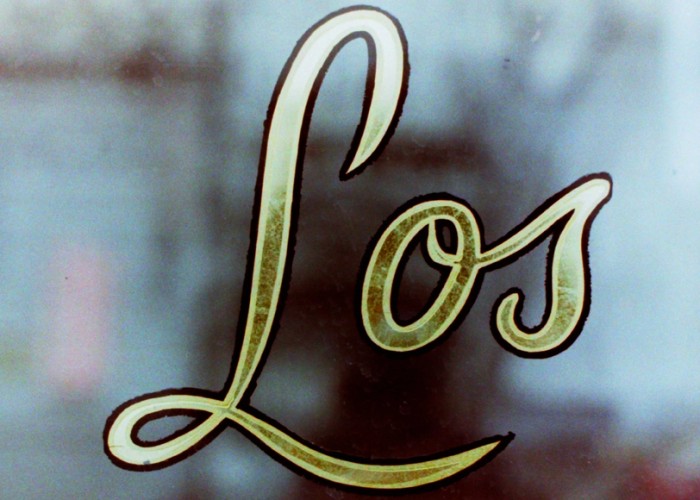 Paola Cortés Rocca on Bruno Dubner's Las Muertas (The Dead)
translated by Jennifer Croft
1. Images are wily: they don't lay out facts, don't make any cases. They're indolent and superficial: they would have us believe that the world is what we see, and that it's just fine as it is already. They reside as far away as possible from Comprehension, which begins where we resist appearances and first glances.
2. "When we are afraid, we shoot. But when we are nostalgic, we take pictures," said Susan Sontag. Photographic discourse is elegiac and crepuscular: it not only cherishes the past, but also converts into past everything it touches. Salvaging it, damning it, protecting it, asphyxiating it. Photography is an overprotective mother, sweet and terrifying. A melancholy lady in eternal agony.
3. In the new regime of technology dominated by the digital, certain characteristics … Read More »
---
Published on August 16th of 2013 by Pola Oloixarac and Maxine Swann in
Art
.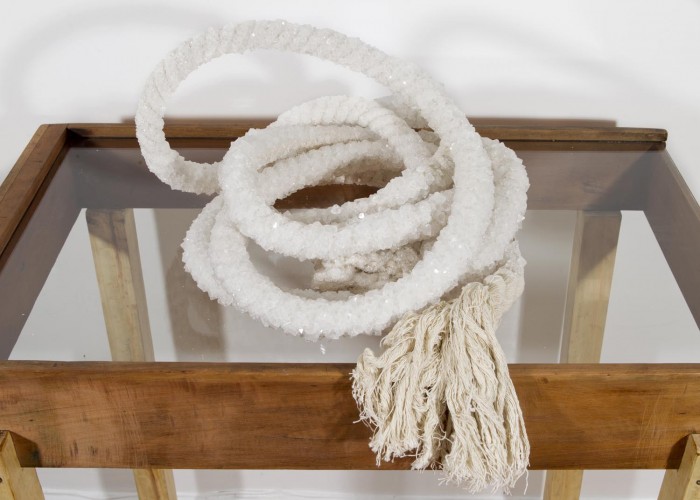 Pola Oloixarac
translated by Maxine Swann
The living and the dead at his command,
Were coupled, face to face, and hand in hand
Virgil, The Aeneid, VIII 483-88
In rock caves like these, Cicero reports (Aristotle confirms) the obscure metaphysics of the Etruscan pirates. Their domination spanned the Tyrrhenian Sea up to the Cisalpine Gaul as far as Alalia and the Latium, before the coalition of Carthage; Herodotus mentions that "their ships brandished enormous golden spiders or gigantic octopuses." They secured the ships to rocky formations of alum, remnants of the marine floor elevated to the surface that was man's; then they descended with ropes into the caves turned tombs.
(These grottos have been known to attract human beings. They are not indifferent to the organic. It's the voice of the tundra that coats beings with its excretions, without distinguishing … Read More »
---
Published on July 30th of 2013 by Mariano López Seoane, Pola Oloixarac and Heather Cleary in
Art
.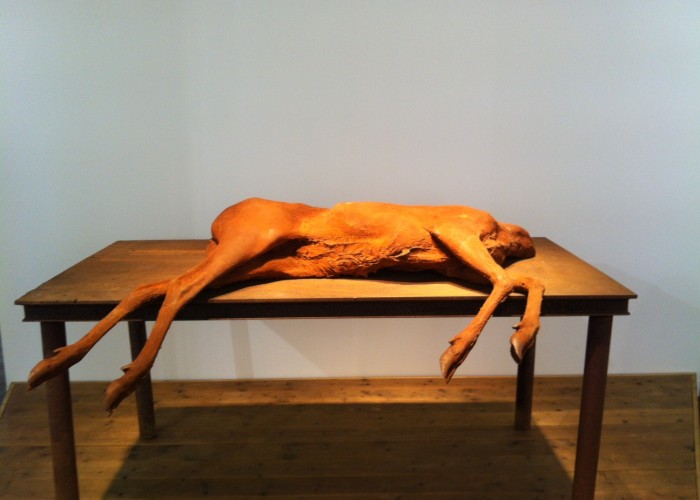 Mariano López Seoane
translated by Pola Oloixarac
In fairy tales, curiosity, one of the forces that sets the story in motion, is always punished. This ancestral warning has stopped few, even though punishment has rained down upon us from Eve's appetite for apples to the present day. It was the desire to see things up close, to be where the action was, that drove me to visit the Venice Biennale and Art Basel in the space of two weeks. The punishment was not long in coming. Like a hero in disgrace, I was condemned to repetition: in both places, the same artists, the same names, the same questions and, what's worse, the same experience.
There's little to say, in critical terms, about Art Basel. It's a fair: it aims to sell works and make names circulate, ignite careers, turn artists into … Read More »
---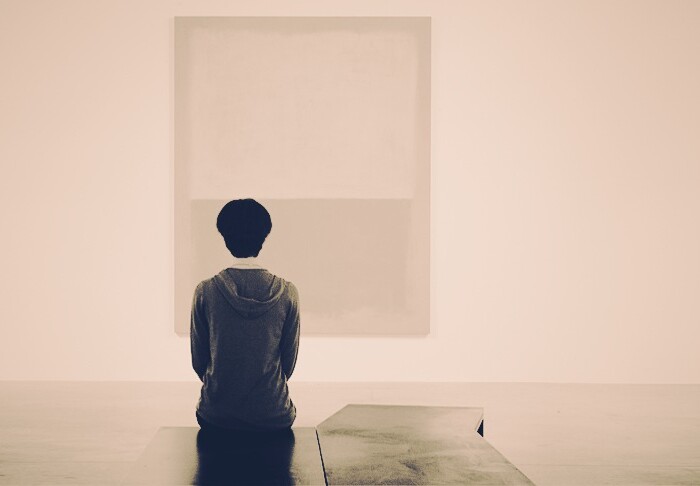 María Gainza
translated by Jane Brodie
I'm scared. I'm sitting on a plastic chair waiting to see the doctor. It's a cold spring morning and I've come here because my right eye has been twitching for several days. It throbs—intensely, insanely, especially the lower lid. I sometimes think it's going to burst. I have ruled out the most obvious causes: it's not fatigue because it sometimes starts up just five minutes after I wake up; it's not strain because I haven't read a thing for a week; it's not alcohol or cigarettes or coffee because I'm a strict ascetic; I don't believe in stress. I've considered possible illnesses. I went online and found forums for people with a twitch in their eye. One group even invited me to one of the meetings they have on Monday nights in … Read More »
---